Mobile speech and data communications have become part of everyday life in all parts of the world.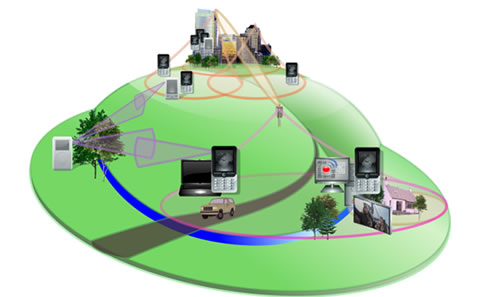 However, the provision of more sophisticated 'tele-presence' services requires a further quantum leap in research if we are to move forward from mobile phone technology. The Communications Group plays a key role in researching and advancing the necessary enabling technologies to facilitate this quantum leap, including the physical network and service layers, as well as their joint optimisation.
Long-term research in the group focuses on communications and information theory. It provides ideas for more short-term, applied research, while directly appealing to industrial partners across the globe.
Having completed a range of studies related to the current operational wireless systems and their components, the group's research activities have now progressed to the next generation of wireless communications systems and their components. The Next Generstion Wireless group is also involved in the European Networks of Excellence Newcom and the Virtual Centre of Excellence (VCE) in mobile communications at www.mobilevce.com
Head of Group:
Academic Staff:
Professor Sheng Chen
Professor Lie-Liang Yang
Professor Robert Maunder
Dr Soon Xin Ng (Michael)
Dr Mohammed El-Hajjar

Group secretary: